Stable Diffusion is the most popular Open Source Image generation AI model of this year so far.
There are a lot of different ways to use Stable Diffusion to generate images via text prompts, including using Stable Diffusion on iOS devices.
You can now even use Stable Diffusion on iPhone and iPad
Let's take a look at a few different iOS apps that we can install and use Stable Diffusion on iPhone / iPad to generate images from text prompts.
The apps are listed in the order of own favorite first.
Install and run Stable Diffusion on iPhone locally: Draw Things
My personal favorite new way to use Stable Diffusion on iPhone is to use an iOS app called Draw Things by Liu Liu.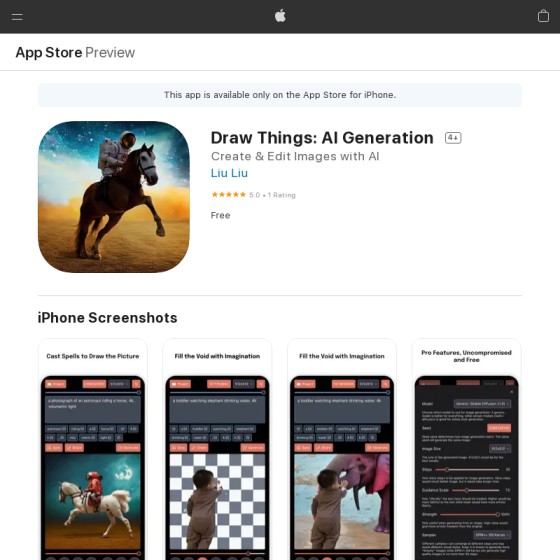 You can install it from the App store direct link.
The best things about this app are
Its runs fully offline and locally on your iPhone
Your images stay with you with no data sent to a server
It's free.
And it's fast as compared to some other apps and methods
You can use photos from your camera and edit with text to image AI
Other features are – Inpainting Mask, Outpainting, Text to Image Generation, Text-Guided Image to Image Generation, Image and Prompt Edit History, etc.
This app is created by a Developer named Liu Liu
Installing and using Pixelz AI: Stable Diffusion on iPhone or iPad
Pixelz AI is a company that provides AI text-to-image tools for various platforms including iPhones and iPads.
Pixelz AI has integrated Stable Diffusion inside their iOS app.
You can install their App from their App store link
WAND – Upcoming App for Stable Diffusion on iPhone
There is a new iPhone App for creating AI images using STable Diffusion called wand. It's currently taking requests for the waitlist and has yet to launch publically.
Use AI art tools from the mobile browser on your iPhone
You could also use a number of browser-based tools from your iPhone browser. For example, DALL-e works like a charm on mobile browsers.